Our Champagne B&B activity was "on pause" during the pandemic. Now, after enjoying visits of thousands of guests from around the world over the past 20 some years we are going to relax, move to a new apartment in the center of Chateau-Thierry and put the B&B in Reuilly on the market.  Feel free to call us at +33.6.1324.4616 for more information, or write us at frenchbnb@gmail.com.
Follow the Marne River Valley and discover a France to make your own
An hour east of Paris you enter gentle, rolling country where woods and rivers, champagne and fine food, charming accommodations and the traces of a rich history will take you out of time.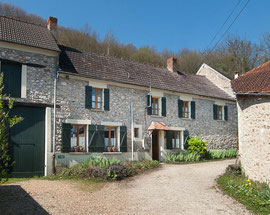 Bill & Meredith, an American couple in France since 1980, invite you to share their charmingly restored farmhouse Bed and Breakfast.
An hour east of Paris in the heart of the Champagne region.

Stunning hillside views over villages and vineyards of the Marne Valley.
Four tastefully decorated bedrooms all with en-suite facilities.

Breakfast around the big "lazy susan" table in the kitchen encourages good conversation. Home baked bread.

Artwork and antiques throughout the house.

Library with many books in English. 

Free wireless internet.
Guest fridge.

Laundry facilities as needed.

All-season glass conservatory with piano and NordicTrack. 

A good base near Paris for discovering Picardy, Champagne and beyond.

See guest comments at Tripadvisor.com and Booking.com for "Champagnebnb". Please avoid booking through Booking.com because they charge us a 15% commission.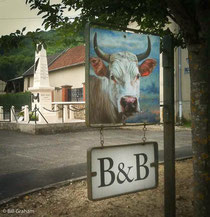 Why the cow's head? We live on Rue des Vaches (Cow Street). Yes, when we tell our French acquaintances they laugh. How many care to boast they live on Cow Street? Be careful however when trying to find us on your GPS. So many guests have entered "Rue des Vaches" then taken a two hour tour of the area, not realizing that most villages have a "Cow Street".  You will find us here: N49° 3'29", E3° 33'23"
See the white obelisk behind the sign. It is a memorial to the dead of WWI, then WW2. Every town in France has one. If you go into Google Maps and ask for the street view it will put you on the D1003 in front of the obelisk, with our house (top photo) up the hill a bit. Rotate the Googlemap and you can see 360°.