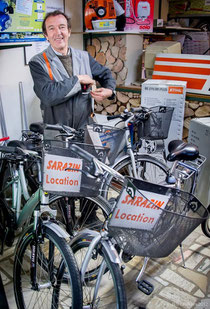 The Sarazin shop on the square of Dormans, 8km from the Champagne B&B, rents five bicycles to tourists. He also sells all manner of lawnmowers, scooters, hedge clippers, chain saws etc. More importantly for me Monsieur Sarazin fixes all this stuff and has for nearly 50 years. He admitted his love affair with bicyles started when he was 5 years old!
Recently we had two French guests from Paris who took the train to Dormans from the Gare de l'Est, rented bikes (11 euros the day), cycled 40km to Reims, then 30km to Epernay and returned 40km to spend the night chez nous before returning the bikes the next day and catching the return train to Paris. Need I say they were in good shape.
We also have three bikes which we're happy to loan for free but with no guarantees. Bike fixing is not one of my talents!