Champagne B&B Photo Blog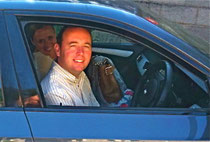 Susan & Simon. We really enjoyed the visit of this English couple. Simon, an executive for a large international hotellerie group, and Susan, like their holiday pleasures simple such as our B&B or their trailer by a trout stream in Cornwall.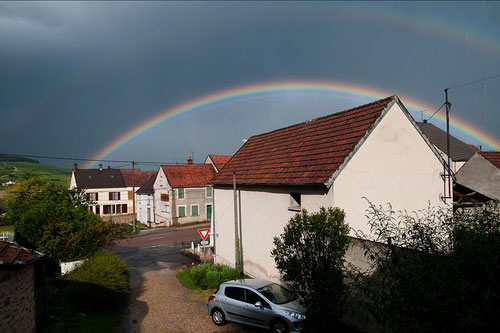 Phil and Nathalie Coleman This couple from Oregon stayed in the Eisenhower room with its view of the village and glimpse of the vineyards at upper left. During a rainy day in mid-June Phil looked out the window and saw this amazing rainbow. We get some good ones but this is a winner. Thanks, Phil.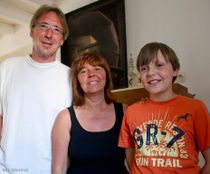 Wahler Family
They were among our very first guests in 1998, and this June they returned on their way to Britanny, then two weeks later on the way back to Germany, well sun-tanned!
I think their son was a gleam in the eye of mom and dad in 1998! :-)
It was a pleasure to see them again.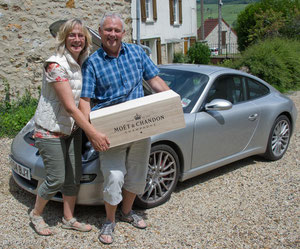 Jon & Anne from Bristol
It's not every day that guests drive up in a Porsche Carrera S. Nor leave with it half filled with a Methuselem of Moët & Chandon champagne. Have you seen the size of a Porsche's "boot"? 
Here Jon Dyke and wife Anne display the big box in front of their really impressive sports car. He gave me a ride in it. Talk about acceleration. My Prius with TWO motors and 160hp pales in comparison to his 350hp. (size does matter! LOL)
Photos below are on bridge across Marne to Passy-sur-Marne, and by the Reuilly church which dates back to the 13th century (they say). Click on the Porsche on the bridge. I love that image.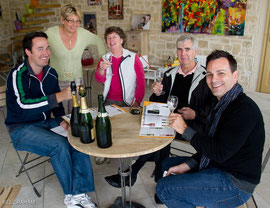 Navarre Champagne Tasting - Passy sur Marne
Joelle Navarre gives our guests a tasting of three different champagnes, Brut, Brut Reserve and Prestige. I came to replenish the guests fridge with our usual Brut. 
Nathan Baynard, left, and Robert Marra, work in theater. Nathan from LA is with the Ojai Playwrights Conference. Robert is an actor/ director/ choreographer/ drama coach working in LA and NYC. See Robert's resumé.
Geoff and Carrie Stockdale, from Melbourne, Australia, are staying with us a whole week. Real masochists! LOL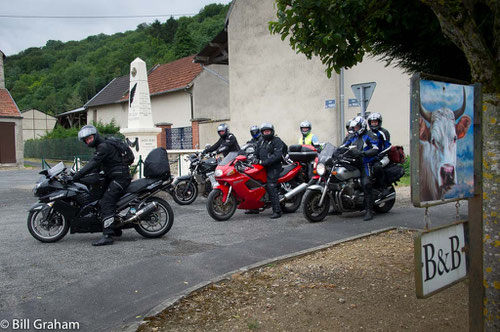 Chris Sutton & his Band of Brothers
Chris Sutton brought a band of brothers (and sisters) on a pilgrimage to WW2 sites like Omaha Beach and Bastogne. The Champagne B&B was a stop over point.
Chris is a "publican" with a hostelry called The Crewe Arms near Oxford. They all came on motorbikes. Chris was on a beautiful red Ducati so I know owning a pub pays well! 
Note the breakfast setting below with 12 at our table for 8. Thank goodness for the Lazy Suzanne.