Monuments
Châteaux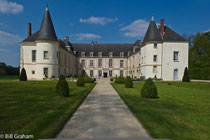 Château de Condé-en-Brie
At 15 km this is the closest historic château to the Champagne B&B. In the village of Condé-en-Brie, it was a stop off for princes and royalty who wanted to escape the stresses (and smells) of city life. It is still lived in and multi-lingual tours are available after lunch. The château is a sought after locale for weddings and fetes. 
In the images below you might think you have stepped back in time to the 18th century or the Kubrick film "Barry Lyndon", so well done are the costumes and props of the multi-national group whose hobby is historical reconstitutions. This was a special occasion so don't expect costumed actors wandering around when you visit. But the rooms and props are there all the time to educate and enjoy. 
Fére-en-Tardenois. Once fortified, is today a partially rebuilt ruin with much atmosphere. It sits adjacent to the 4 star hotel of same name. Built in early 13th century it served a succession of nobles and royalty as a pleasure palace uto to the end of the 18th century.
If visiting the "county seat" of Laon, with its church and museum, another half hour to the north stop and visit the Chateau. There is a weekly Wednesday market in Fére-en-Tardenois.
Between Fére and Laon is one of the better golf courses in the north of France. Hundreds tons of scrapnel and unexploded ordnance from the First World War were exhumed to build the golf course - dangerous work.
Between the golf and Laon the famous "Chemin des Dames" crosses the road. Famous as a way for princesses (Dames) of the time to take the air, it became a crucial battle in 1917 in WWI with Germans on the high ground and French troops thrown into a hopeless quest to displace them, one cause of the mutinies for which a number of French "mutineers" where shot. Today the Eglise de Craonne and the Mairie de Craonne hold periodic events.
Caverne du Dragon is the one place on the Chemin recommended for tourists however knowing the Caverne before it was "ruined" by those with little sense for history or atmosphere of the time, I cannot recommend it.