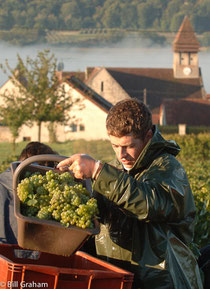 Champagne 
What is a trip to the Champagne region without visiting the vineyards and sampling the wares? 
Smaller producers: with over 1,500 producers it can get a little confusing. We are only too happy to share our experiences.
The big houses are concentrated in Epernay, the "capital" of Champagne (Moët & Chandon, Mercier, Castellane), and Reims (Veuve Clicquot, Pommeroy...) give regular tours in English, Dutch, German and of course French.
The best tour: One of our friends near Epernay, Nathalie, owns a small winery (30,000 bottles/year) and gives tours of the vineyards in English showing in detail how things are done. Very highly recommended (but not on Wednesday or Sunday). We can book in advance for you. She takes up to 8 persons from Epernay in her minibus, leaving at 14h30. If you do one thing in the Champagne area take Nathalie's tour. Over 200 of our guests have been enriched by the experience.
Other small houses where we buy our champagne:

Avize for 100% Chardonnay (Hervé Dubois, daughter Nina speaks English),
Trelou-sur-Marne (Meteyer, Anna from Poland is multilingual),
Passy-sur-Marne (Joelle and Alain Navarre - very consistant champagne we have been buying for 15 years).