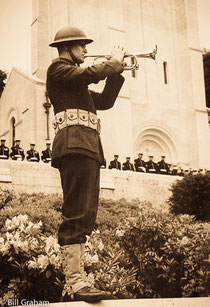 Military history
Our house was in the middle of the turning-point battle of WWI, the Second Battle of the Marne. One of our early guests, John S.D. Eisenhower, son of Ike and a military historian, wrote a book about it called "Yanks". They were here for a week of fact checking. 
We are surrounded by WWI cemeteries. Belleau Wood, officially known as "Aisne-Marne", is dedicated to the Marines who first turned the tide. Nearby the "Oise-Aisne" cemetery contains tombs of the famous, such as Joyce Kilmer, American poet and author of "Trees".

British cemeteries are dotted across the landscape and contain graves from all the Commonwealth, Britain, Canada, Australia, New Zealand, South Africa and beyond.

The Germans lost thousands here too in WWI and often their cemeteries are next to those of their past enemies. A touching juxtaposition.

In Reims visit the Musée de la Réedition, where the Germans in WW2 surrendered to the Allies under General Dwight Eisenhower. The map room is very moving - all the tables and huge wall maps to plan the Allied victory still line the walls. 15 minute walk from center od Reims.

At the B&B we have many books on both wars to consult.